The trade turnover of the Atyrau region is $ 13.4 billion. Exports of 83% or USD 11.1 billion predominate in the structure of goods turnover in the region, which decreased by USD 3.6 billion.
The total export of the region is 11.1 billion US dollars, of which: to the countries of the EAEU - 25.4 million US dollars, to the rest of the countries - 11.1 billion US dollars.

Export structure of the region:

99.3% ($ 11 billion) - mineral products (oil and oil products, natural gas, propane, butane, sulfur), sales markets: Italy, Netherlands, France, Spain, Greece, Switzerland, Portugal, Romania Israel, Japan, Turkey, India, Poland, Canada;
0.4% (US $ 40.8 million) - machinery, equipment, instruments and devices (air pumps, geodesic instruments and tools, machines and mechanical devices with individual functions), markets: United Kingdom, Italy, Turkey, Netherlands, Russia, USA;
0.2% ($ 25 million) - metals and products from them (waste and scrap of ferrous metals, tools for drilling rock and soil, products from ferrous metals, metal pipes), sales markets: Russia, USA, Germany, Azerbaijan, UAE;
0.1% ($ 9 million) - the remaining product groups (polypropylene, polyethylene pipes, fish products, clothing, electric lamps, etc.).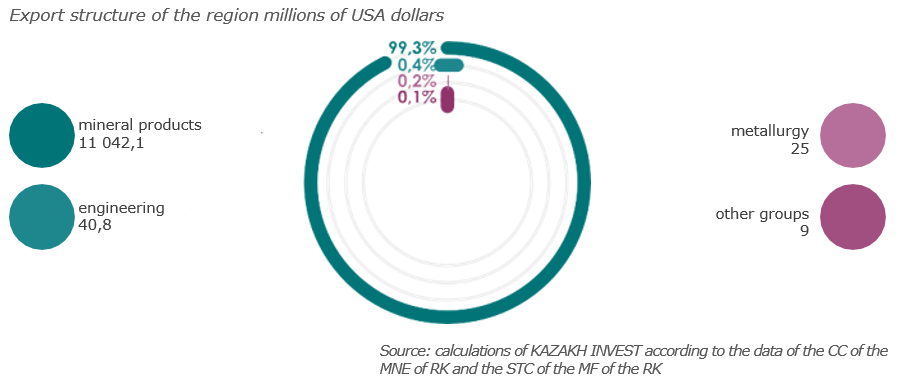 In the structure of exports of processed goods, the main share is made up of intermediate consumption goods (96.2% of all processed goods), the share of consumer goods and means of production is 3.5% and 0.3%, respectively.
Exports of finished goods amounted to $ 63.6 million, an increase of 30% compared with 2017. The largest volume of exports accounted for rock drilling tools ($ 6.6 million), air pumps ($ 5.3 million), metal pipes ($ 3.2 million), ferrous products metals ($ 3 million), geodetic instruments and tools ($ 2.9 million), machines and mechanical devices with individual functions ($ 2.9 million), self-propelled lifting mechanisms (2, $ 7 million), steam or sand blasting machines ($ 2.6 million), valves ($ 1.7 million), etc.

The export geography of the region under consideration consists of 88 countries. The main trading partner countries of the Atyrau region are the EU countries, which account for 85.4% of the region's total exports.
| | | |
| --- | --- | --- |
| Countries | million US dollars | main export goods |
| Italy | 3720,4 | crude oil $ 3.7 billion, petroleum products $ 13.9 million, petroleum gases $ 5.1 million |
| Netherlands | 2092,7 | crude oil $1.8 billion, petroleum products $ 330.2 million |
| France | 1385,9 | crude oil $ 1.4 billion |
| Spain | 758,1 | crude oil $ 758.1 million |
| Greece | 576,6 | crude oil $ 576.6 million |
| Portugal | 340,7 | crude oil $ 340.7 million |
| Switzerland | 312,0 | natural gas $ 312 million |
| Romania | 295,7 | crude oil $ 280.5 million, petroleum gases $ 14.2 million |
| Israel | 224,0 | crude oil $ 212.1 million, sulfur 11.2 million |
| Japan | 210,7 | crude oil $ 210.7 million |
| Turkey | 171,8 | petroleum gases $ 97 million, crude oil $ 67.5 million, petroleum products $ 2.1 million |
| India | 151,3 | crude oil us $ 150.9 million |
| Poland | 111,1 | oil gases $ 100.2 million, crude oil 10.8 million |
| Canada | 103,5 | crude oil $ 102.7 million |
| Ukraine | 97,7 | crude oil $ 75.6 million U, petroleum products $ 14.1 million, sulfur $ 7.4 million |