Reed will be used to generate electricity in Atyrau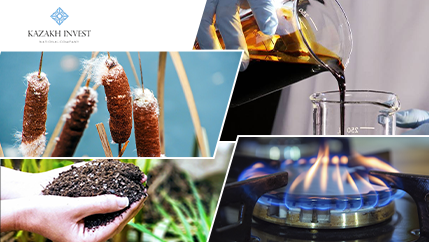 It is planned to implement an investment project for the construction of bio-processing plant "KAMYSAY" in Atyrau supported by "KAZAKH INVEST" National Company" JSC. The Kazakh company plans to process the reeds for further use at the TPP for heat and electricity production. This is the first project in Central Asia to replace fossil fuels with biofuels on an industrial scale. The volume of investments in production will be about 1 million euros, the implementation period is 2020-2022.
According to the project initiators, modern technologies will make it possible to use reeds for the production of biochar, fuel oil, gas and diesel fuel. At the same time, the project will be as eco-friendly as possible: biomass will be processed without chemicals or other harmful additives. The Akimat has already allocated a land plot of 50 hectares for implementation.
"Reed - is a renewable energy source. On the territory of our region, it grows on 200 thousand hectares. The plant can reach up to 4 meters in height in 100 days. The processing of this type of reeds will make it possible to produce from 1 to 30 MW of "green energy at mini-TPP stationary", - said Mr.Yerzhan Kolbaev, Regional director of "KAZAKH INVEST" National Company" JSC in Atyrau region.
In addition, the production has a great export potential. A plan has already been drawn up for the use of reed biochar in European countries. It is planned to export over 200 thousand tons annually, which is equivalent to over 1 million kW of thermal energy.
"We are currently negotiating with foreign companies in order to resolve the issue of project financing. We also plan to receive funds from international banks such as the European Bank for Reconstruction and Development (EBRD), the World Bank (WB) and the Development Bank of Kazakhstan (DBK)", - said Mr.Salamat Zhaskelenov, an official representative of "KAMYSAY ATYRAU" LLP.
The initiators note that the project will help to solve a number of problems of energy and heat consumption in the region. The production of bio-solid fuels will meet the needs of the local market for "green" thermal and electric energy in remote community, greenhouses, schools, hospitals and industrial facilities using fuel as coal, diesel fuel and fuel oil. As result, the volume of carbon dioxide emissions into the atmosphere will be significantly reduced.
Moreover, the project will resolve the issue of population employment. More than 500 people will be employed in the construction of the plant, and after putting into operation will be created about 350 permanent workplaces.