Growth achieved in many industries last year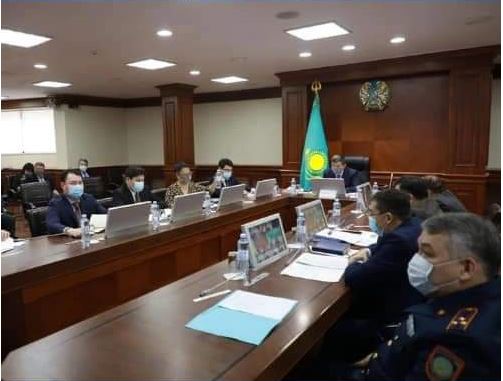 At a meeting chaired by the head of the region Makhambet Dosmukhambetov, this was stated by the head of the Department of Economics and Budget Planning Aigul Azhigaliyeva, the Press Service of the akim of the region reports.
The head of the department, in her report on the results of the socio-economic development of the Atyrau region for 2021, highlighted the growth indicators in various sectors of the region.
"In 2021, the volume of industrial production amounted to 8.5 trillion. tenge, physical volume index - 102.1%.
In particular, the mining industry produced products worth 7.7 trillion tenge. The volume of manufacturing industry output is 693 billion tenge, that is, it increased by 5.5%," she said.
Along with this, 114 billion tenge of products were produced in the sectors of agriculture, fisheries and forestry, with an index of physical volume of 103.2%. Also, there was an increase in the volume of construction work - 106.2%.
"Here I note that the volume of construction work has increased in the city of Atyrau and the Zhylyoy district. And the number of small and medium-sized businesses increased by 3.6%, amounting to 52,000 units," A. Azhigaliyeva said.
Also, the head of the Finance Department Azamat Salimbayev made a report on the budget execution.
Summing up the meeting, akim of the region gave a number of instructions to responsible persons.
"I instruct to work on attracting investment, to take specific measures. In sectors, it is necessary to take control over the implementation of indicators in all areas and bring the indicators of the socio-economic development of the region to the planned level.
It is necessary to take measures in advance, 2 months in advance, to monitor the real development of budgetary funds. For the timely development of the planned funds, it is necessary to ensure control over the quality of goods, services, construction work and take appropriate measures within the framework of the law," M. Dosmukhambetov said.
Also, the head of the region instructed to make proposals on the application of disciplinary measures against responsible persons for failure to achieve the targets planned for 2021 and against akims of some rural districts of the city of Atyrau for inefficient budget planning.
Along with this, at the meeting, the regional akim introduced the newly appointed head of the Police Department, Nurkhat Urazbayev.
Source: Akimat of Atyrau region